Today I want to complain about having guests abroad. If the guests are from our part of the world, they certainly miss rakı nights. And Alp wouldn't miss rakı night for the world if he is with good company. So we alwaysa prepare meze. If the guests are from somewhere else, then they want to try original Turkish cuisine (as I would for their own cuisine) so we end up with mezes, again! So we end up making mezes whenever we have guests instead of trying new recipes the way I love to experiment. Not that I am bored, but I want to try more! When we are alone at home we try to eat lighter and practical so we don't try much. Hence is the delay in new posts.
Last week I had guests that were about to go to Turkey so I had to chance to serve them experiments since they would eat Turkish there anyway!
I love verrines and fingerfood. Allow me to stay in front of a cocktail buffet, I won't move away even if the buffet is not that good. If it is good, I won't move anyway, let people keep networking, I have a full mouth! Anyway I took the opportunity to prepare a few fingerfood and verrine recipes. By the way – cooking regular entrée-main-dessert would be a lot easier! They took a whole day! But to me it's worth the time.
As main, we had Risotto Milanese and roasted kid. But the risotto recipe is for another day. Today we are talking mini food!
Salmon and Pecan Tartines
First I made these tartines. Toasted bread with wild garlic & fresh cream cheese spread, smoked salmon and lemon peel/dill. Actually you can serve caviar with this but I left it out for this time. For me and myself I also made one with ham (jambon cuit), because I don't really enjoy smoked salmon. Alp tried scoring one but no! There were only two for me and lots of salmon for him! Anyway. To the back, you can see the ones with pecan and cream cheese with almonds and walnuts. They were by far the favourites!
These cream cheeses are quite processed, and it is too simple, but it is one of my weaknesses, so I use it a lot for this type of food. My biggest weakness is the yellow burger cheese. Even when I'm having a burger with the bestest of the best cheddar, a small part of my mind is still on that cheese, thanks to Arby's…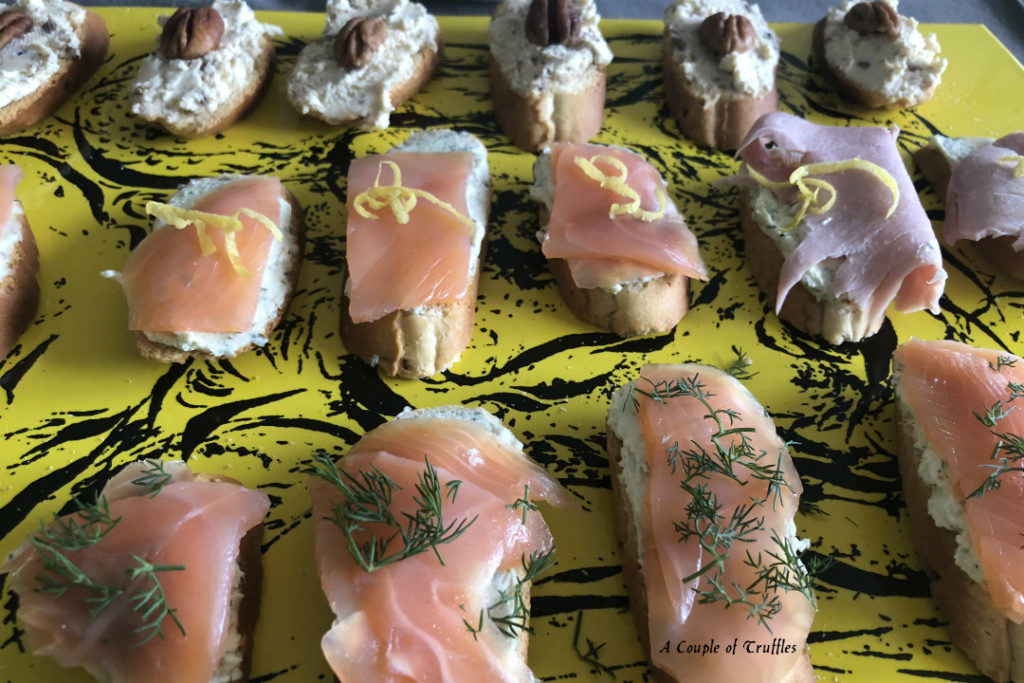 Onion Confit with Smoked Duck Breast
Second was to be a salty and sweet dish. I was between fig confit with gouda and onion confit with duck breast. Unfourtunately I couldn't find fresh figs so the choice was made. I love sweet tastes with duck (and lamb) so anyway that is a very appealing recipe for me.
Julien 500g of onions and cook on medium heat with 2 table spoons of olive oil until golden. Add 1 table spoon brown sugar and 2 table spoons raspberry vinegar (or apple), set to the lowest heat and cook for another 30 minutes until brown. Add salt and pepper and leave to cool. Serve with smoked duck breast (better if with chilly) or alternatively duck liver or warm lamb on a stick.

Cheesecake in Bloom
Even though I was stuck on a roquefort crème brulée with pear mousse, I decided something sweeter would be better so chose the cheesecake in bloom. I love the textures so the recipe is definitely to keep for future experiments! Mix together 100 g ricotta, 80 g fromage blanc (or Greek/Tırkish yoghurt or labneh), 50g sugar. Dissolve 1g agar agar in 2 table spoons of rosewater, and warm. Watch out! When boiled it becomes too stiff so take it off heat before boiling and mix well with the first mixture without waiting. You can add red food colouring, but I decided to use a few drops of raw beetroot juice. Beat 80g of cream until chantilly, add to the mixture and blend both with a spatula. Refrigerate for at least an hour.
For the mousse on top, beat 1 egg with 30g of sugar, add 2 coffe spoons of corn starch and mix. Heat 100 g milk to boil, add 1 table spoon of violette syrup and the egg mix. Stir until thickened. If you want to colour to violette add on drop each of red and blue food coloring. Or, use raw red cabbage juice for blue (to mix after the mixture is cooled), but be careful to not to over use and change the taste. I thought I had red cabbageat home and I was disappointed for not being able to colour. Anyway, cover the mixture and let it cool. Once reached to room temperature, add 60g of butter at room temperature (I used 30 but don't be afraid to use it all if you want). Then mix it until it becomes moussy. Use a piping bag to decorate on the cooled rosewater cheesecake. Decorate with flowers!
Also ve creative and replace rosewater and violette syrup with something else. What about strawberries and banana?
Recipes are from my favourite verrine book: 100 recettes de verrines. Even though I have several books, my best recipes are always from this one!