April is the time for wild garlic. I had forgotten about it this year but Deniz from Mide Lobisi brought it back to my mind and we wanted to start our hunt before it got too late. Open your eyes during your hikes from April to June!
Its scientific name is allium ursinum, which can be translated as bear's garlic (similarly it is called ail des ourses in French). The reason is quite obvious: apperantly European grizzlies love digging and eating the bulb! Boars are also quite fond of them. Of course I haven't seen any of them in action. I wonder whether I would have the courage to watch them if I had seen one. My animal loving side would want to stay but the saner version of me would suggest slowly but steadily back track. On a related note, they say the last thing you do when you see these guys is to run.  The slowest animal of the forest is most likely to outrun a human. And only those who are hunted run!
Anyways, as I said spring means wild garlic. We are lucky about where we live. We are living in the Alpine region of France, next to Geneva and there are farming fields and a small forest 200 metres from us. A muddy path by one of the fields lead to a small river. There are a couple of places where you can cross the stream and afterwards you reach the rest of the forest.
Last year when I was walking (considering the hills it's actually a mini hike) with Mickey there I met an old French man and during that walk he told me about these wild garlics and showed me where to find them. Later on we went there several times with Alp but it was too late for the garlic, so we never had the chance to forage together. This time our minds were set on foraging so we went straight to there.
Right after we crossed the river, we started smelling garlic. It is quite normal to smell garlic close to wild garlic growing spots. We looked for it but unfortunately couldn't find any despite the smell. We decided to go on to the place we had on mind and come back if we can't find any. We reached our destination but there were none there! We found some wild onions (really thin scallions, smelling onions) but since we didn't know the plant we left them alone. We decided to separate and cover more ground and voilà! These buddies were hiding under a tree!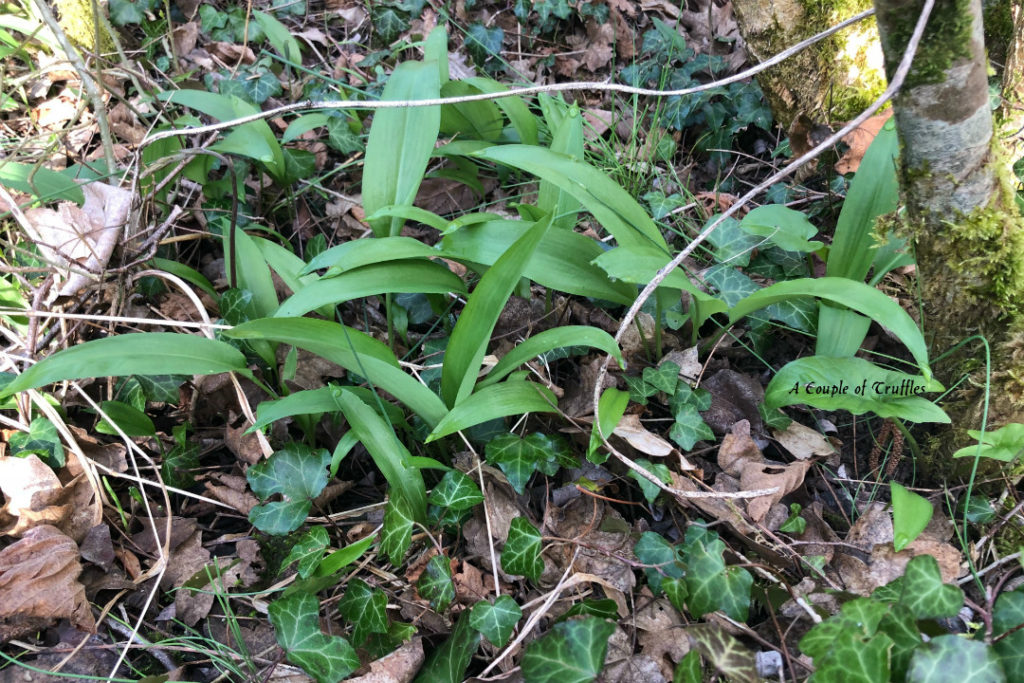 We got some but we didn't want to harvest it all so we left most of it, of course! We walked around a bit more with no results. On the way back we found a few more close to where we smelled it in the first place. This time we also digged up a few bulbs to plant in our garden. The ones I planted last year didn't held, hopfully this year they will be happier!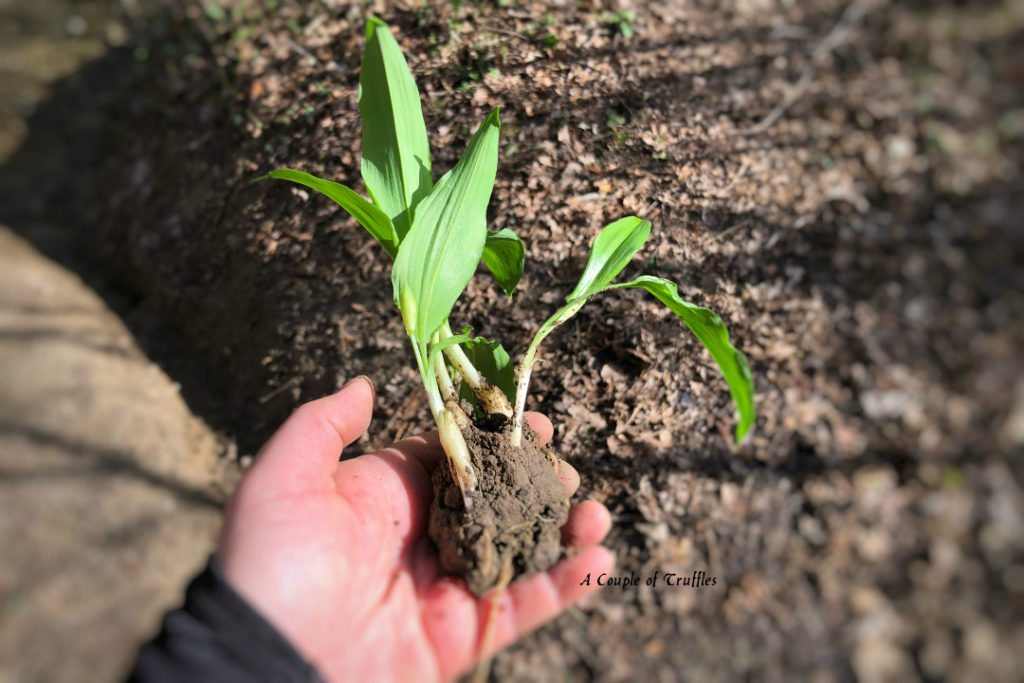 Important Side Note
An important side note: there are a few plants that look like wild garlic but are poisonous. For instance the leaves of lily of the valley with its lovely smelling flowers, look like wild garlic but it is poisonous. There are others as well and every year a few people get poisoned because of them. Crush the leaf between your fingers and smell it, if you don't clearly smell garlic, do not taste it. No need to be afraid but be cautious.
Wild Garlic Butter
After the 2-hour-hike a few hundred meters from home, we couldn't find enough wild garlic so we decided to make garlic butter with it. This part is easy, salt the room temperature butter and edd the garlic, mix well with a spatula. Garlic may be hard to process in a robot so I used a hand blender to mix instead of the spatula, and it also processed the garlic. The butter will be a nice, appetizing green. Another note here, if you are not lucky enough tofind wild garlic, use green garlic instead!
2 saatlik yürüyüş sonunda istediğimiz kadar çok toplayamadığımız için sarımsaklı tereyağı yağmaya karar verdik. Bu kısmı kolay, biliyorsunuz. Oda sıcaklığındaki tereyağına (tuzsuzsa) tuz ve yabani sarımsak ekliyorsunuz ve spatulayla karıştırıyorsunuz. Şimdi sarımsak az olduğu için çekmek zor olabilir, ki bizde oldu, spatula yerine el blenderı ile karıştırmak hem sarımsakların parçalanmasına hem de tereyağıyla karışmasına yaradı. Tereyağı çok güzel, iç açıcı bir yeşile dönüştü. Bu arada yine bir not, eğer yabani sarımsak bulamıyorsanız aynı şeyi taze sarımsakla da yapabilirsiniz!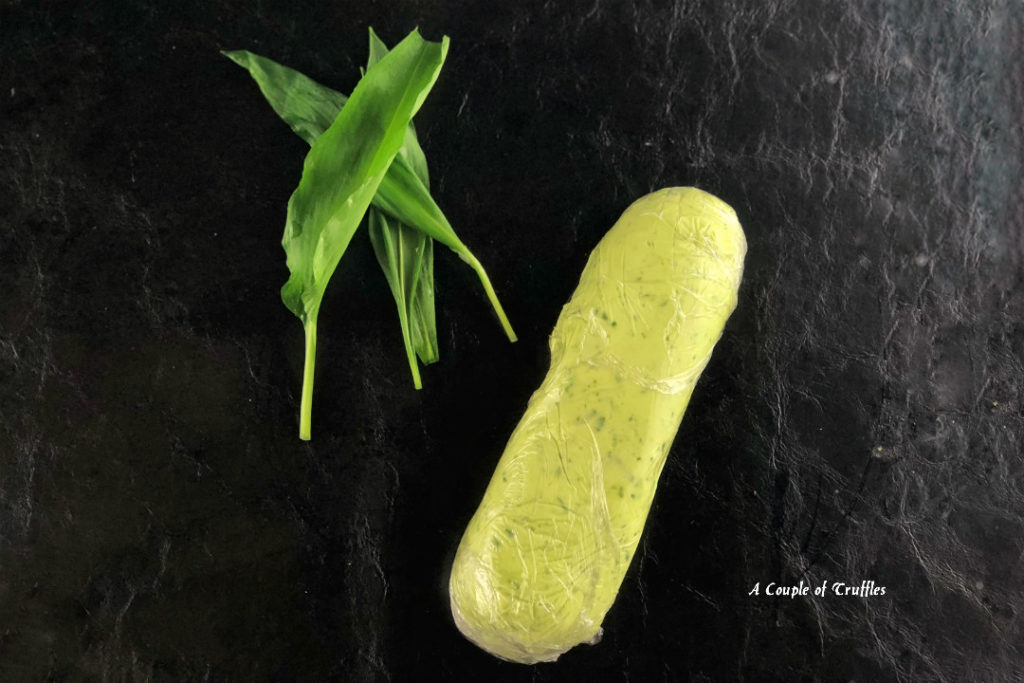 Since the butter is brought to room temperature, it won't hold for long. So either prepare what you need, or keep it in your freezer. I make a thin and long roll wrap and freeze it. Then when I need, I slice a single portion. These aromatic butters go very well with sourdough bread (hopefully for which I will have the recipe in English soon). With this butter (or espellette pepper butter) we sometimes eat a whole bread!
I have to tell you this! Espelette pepper is a protected origin chilly from Basque region of France, close to Pyrenees. It is not very pungent, only Scoville 4. But it's famous for its taste! When dried under the sun these peppers become very flavourful. Mix them with olive oil and serve with tuna, make an omlette with them or better yet, make a butter and eat with Bayonne ham or any other smoked/cured ham! If you haven't tried yet, you should! Anyway, I was talking about butter, not Espelette peppers. I think it's time to wrap up! So here is the breakfast we had after making the butter.