We are not writing. Not because we are lazy or we don't care, but because we are not eating anything interesting.
A bit for shortcut, a bit because it is easier to avoid carbs althogether than to lower, we are on a ketogenic diet. So we eat lots of leafy greens, a bit of nuts and meat and fish. No more exviting fruity sauces, no more colorful salads, pastas… So I don't have much to write about. Actually no, I would still be happy to write but you wouldn't be interested! "Do you know what we had today? A boring green salad with panned chicken." It's a waste of your time!
Don't get me wrong, I still keep trying new recipes. Actually we are making more deserts than we would normally eat! Normally I don't use sweeteners but temporarily I am using them, because I feel the need to get out of the monotony of salads and meets.
Anyway today I have three ketogenic snacks to share with you.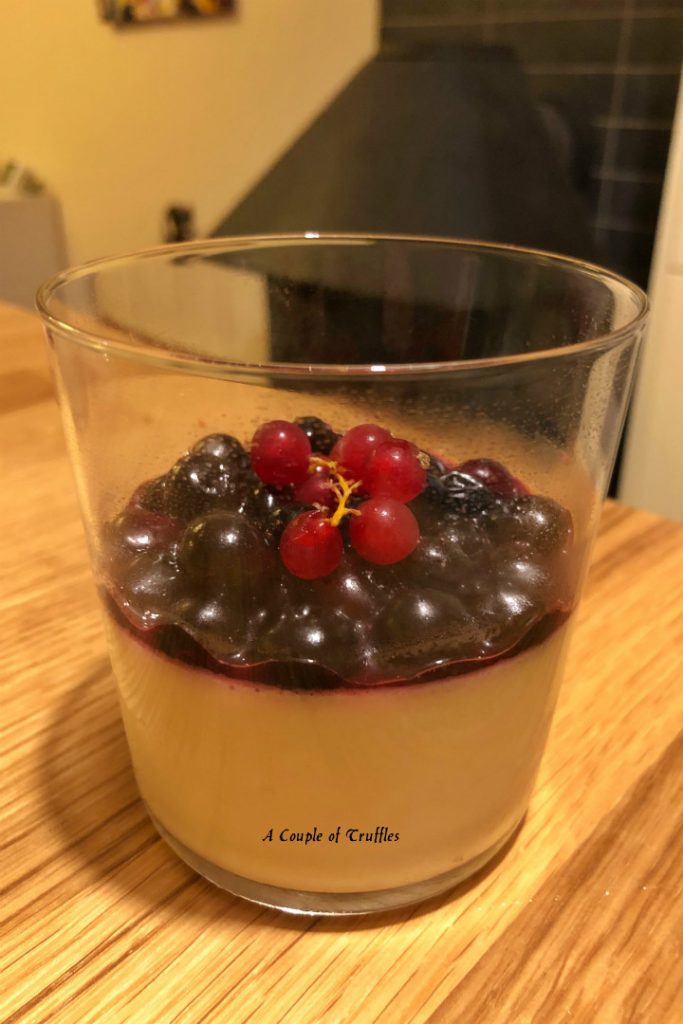 Panna Cotta
Panna Cotta means cooked cream in Italian. (I have been wondering the difference between panna and crema so let me know if you speak Italian! My theory is crema is more chantilly like and panna is more creamy, but it has no basis.) Cream is compatible with ketogenic. Actually you need to choose healthier fats but it's still ok to use cream. It's not a processed legume oil, at least.
300g ceram, 1 spoon erythritol (or any other sweetener, but feel free to use sugar if you are not on ketogenic diet!), vanilla extract to yout taste, 4 gelatin leaves. Soak the gelatins in water, mix and warm all the others. When the mixture is warm an sugar(ish thing) dissolves add the gelatin and wait for it to melt. Keep in mind you shouldn't boil gelatin. Let it cool for a few hours in the fridge.
For the top, of course you can replace with other fruits, but I cooked bluberries and half a lemon's juice until blueberries are softer and warm. I directly put it on the cold and ate warm and cold together. If you are not on ketogenic, you can add more fruits and a bit of starch. I tasted the real sugar version I prepared for my guests and it was veeeery good!
Protein Bar
Especially on a diet, I feel like eating a bit of junk. Normally I eat granola bars etc but no grains in keto. So I made this protein bar on the left.
It still needs perfecting with tastes I like bettet, but it's a good start.
Roughly chop 70g almonds and 60g pecans add 50g chia seeds, 20g coconut flakes, 30g protein powder (another thing I normally never use) and 25g erythritol. Taste with spices such as cinnamon, all spice, salt. In a pot melt 40g almont butter, 30g coconut oil, 15g erythritol, 125g cpcpnut milk, 15g %100 chocolate. Mix with the nuts and cook in the oven (160 C) until hardened. Let cool and portion to 10 servings.
Salty Biscuits
Here comes the most important one. I usually don't feel like sweets but salty snacks. That is a life saver. See the picture on top, the right side? Doesn't it look good?
200g almond flour, 1 teaspoon baking powder, 2 edds (save one white or yolk for the top), 50g red pepper paste (feel free to ask Turkish friends, or replace with tomato paste and chilly powder), 3g salt. Optional: grated parmesan. Mix them all, shape, graze with the remaining egg and sprinkle sesame, nigella and poppy seeds. 160 C until lightly coloured.